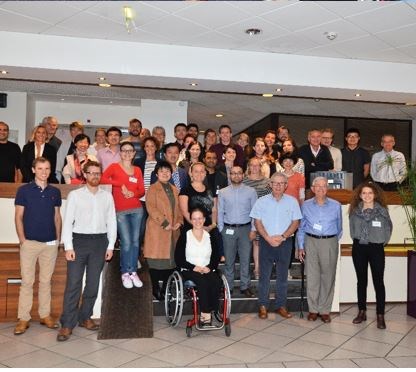 Enrol Now
This course may run again in the future. To register your interest please contact us.
Course Information
Key Areas
Pharmacokinetics and physiological understanding of PK parameters
Clinical pharmacology
Introduction to computational approaches for evaluation of PK parameters
About this course
The present course is organized for professionals involved in pharmacokinetic studies, clinical research or regulatory affairs but without specific skill in data analysis and interpretation. This course is also a valuable refresher course for professionals actively working in PK.
The aim of this course is:
To show non-kineticists that pharmacokinetics (PK) can be a useful tool to document drug efficacy and safety and more generally to understand the role of PK on drug discovery, drug development, drug submission and clinical pharmacology.
To understand the meaning and utility of the main PK parameters (plasma clearance, volumes of distribution, p

lasma terminal half-life

and bioavailability).
Brief training session on how to use a PK software program (Phoenix WinNonlin).
The 2.5 days course will comprise a series of lectures and practical exercises, which delegates will solve utilizing to Microsoft Excel and the computer software Phoenix WinNonlin (version 8.3). Prior to the Workshop (a few weeks in advance), you will be provided with educational licences to download onto your personal PC, which you will bring to the Workshop (NB: not MAC compatible). All test exercises have been carefully designed to allow attendees to proceed in a step-by-step progressive manner.
To achieve its objectives, the course is deliberately presented without (advanced) mathematical consideration but attendees are assumed to know what is a logarithm, an exponential and to have a basic knowledge of statistics.
We recommend this course for residents of the European College of Veterinary Pharmacology and Toxicology. This course provides a brief introduction to the Phoenix WinNonlin interface (but not to population PK). This workshop would be a steppingstone for a subsequent VetCAST workshop run 5th and Thursday 6th of July 2023, following the EAVPT Congress.
Please Download our course programme.
Likely Dates
From Monday 27th March (afternoon) to Wednesday 29th March 2023
Prices
The fees for the whole workshop are:
Student (Resident/PhD) £200 GBP
Academics/Agencies £400 GBP
Private companies £800 GBP
This course can only be booked via this online platform. No invoices can be raised or cheques taken. Cafeteria onsite, lunches and dinners not included in the price.
Queries If you have any questions about the course content, please email Ludovic Pelligand: lpelligand@rvc.ac.uk
Travel and accommodation
Download our information pack for information on travelling to the Campus; details of accommodation within travelling distance of the campus; details and booking of onsite campus accommodation; and the bus timetbale for free travel from Potters Bar station.
Tutors
Alain Bousquet Melou, DVM PhD DipECVPT
Professor of Pharmacology and Therapeutics
Toulouse Veterinary School, France

Ludovic Pelligand, Docteur Veterinaire CertVA DipECVAA DipECVPT PGCert(VetEd) FHEA PhD MRCVS
Professor in Veterinary Anaesthesia and Clinical Pharmacology
Royal Veterinary College

Pierre-Louis Toutain, DVM Dr Sc Dr.h.c DipECVPT
Distinguished Visiting Professor
Royal Veterinary College