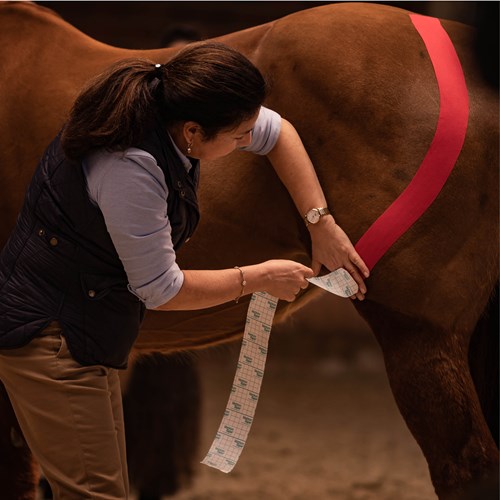 Key Information
CPD Hours: 24 hours
Course Length: Six weeks
Course Format: A mixture of pre-recorded weekly webinars (which can be reviewed throughout the course), live weekly Q&A sessions with the tutors, online case assessment exercises, supplementary reading material and tutor-moderated online discussion forums
Enrol Now
£525.00
To register your interest please contact us as below
This course may run again in the future. To register your interest please contact us.
Course Information
Key Areas
Kinesiology taping
Vibration plates
Neuromotor control
Spinal dysfunction
Kissing spine
Equine rehabilitation
Therapeutic laser
About this course
Due to unforeseen circumstances we are unable to run this course in June 2022, to register your interest please email cpd@rvc.ac.uk
Do you want to further your knowledge of equine sports medicine and rehabilitation? Would you like to understand better some of the techniques used in equine rehabilitation? This course is aimed at veterinarians with a particular interest in equine sports medicine and rehabilitation who have a good basic knowledge of the subject.
This course aims to provide delegates with a better understanding of selected modalities and techniques available today in equine rehabilitation and how to best integrate them in a general equine practice. After a brief introduction of what to expect from the course, delegates will be presented with an overview of neuromotor control in equine rehabilitation and rehabilitation of horses with spinal dysfunction with a particular emphasis on kissing spine. Kinesiology taping, vibration therapy and laser will then be discussed in more detail. Finally, some clinical cases will be discussed in an interactive session where participants will be welcome to bring their own cases to attention.
Why do this course?
To increase your knowledge and understanding of what equine rehabilitation can offer so that you are able to provide an improved/extended service to your equine patients recovering from injury.
The webinars for this course will be pre-recorded and can be viewed as recorded versions throughout the course. A live Q&A session with the tutor will run on the following dates at 1.00pm London time.
Tutors
Solange Mikail, DVM MsC DipACVSMR
Owner of Espaço Equus Rehab Centre
Brazil and Vet Physio Institute, Spain

Melanie Perrier, Dr.med.vet DipDACVS DipDECVS CERP MRCVS
Lecturer in Equine Surgery
The Royal Veterinary College

Nicole Rombach, APM MEEBW CCBW PG AM MSc PhD
Equine Sports Therapist, The Academy of Animal Sport Science, USA
CEO, Equicore Concepts LLC, USA, President, Equinenergy Ltd, UK