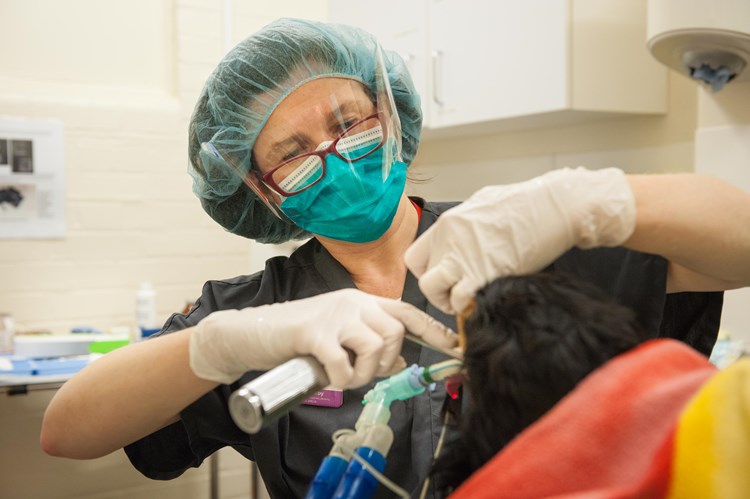 Key Information
CPD Hours: 16 hours
Course Length: Two days
Course Format: Lectures, case-based discussions and practical sessions
Enrol Now
£1,099.00
See main text for dates and booking information
This course may run again in the future. To register your interest please contact us.
I thought this was a fantastic course – well delivered with great patience in the practical sessions
Course Information
Key Areas
The foundations of oral diagnosis
Do's and don'ts of scaling and polishing
How to take good dental radiographs
How to perform closed extractions confidently and with control
Regional nerve blocks and analgesia for dental patients
The use of muco-periosteal flaps for the surgical extraction of mandibular, maxillary and carnassial teeth delete underlined and just add for surgical extractions
Root remnant removal
Radiographic interpretation and case discussions covering
- Periodontal disease: when to extract?
- Fractured teeth: when to treat?
Treating teeth affected by resorption
About this course
We are hoping to deliver this course on Tuesday 11th & Wednesday 12th October 2022 however due to the ongoing pandemic and wider implications on the RVC we can not take bookings at this time. In the meantime please register your interest with us and we will contact you when the course is bookable.
Would you like to improve the quality of the dental care you can offer your patients?
This two-day course focuses on extractions in small animal practice. It includes a strong practical component with canine and fox cadavers. The lectures, while covering both feline and canine aspects, will concentrate mostly on canine dentistry. The course fee includes a set of IM3 dental instruments to use during the practical and take home at the end of the course.
Why do this course?
Fine-tune your extraction skills, and at the same time become more knowledgeable and confident addressing your dental cases.
Tutors
Simone Kirby, DipEVDC FHEA MRCVS Tieraerztin, RCVS Recognised Specialist and EBVS® European Specialist in Veterinary Dentistry,
Veterinary Dental and Oral Surgery Referrals,
The Ralph Veterinary Referral Centre, Marlow

Rachel Perry, BSc BVM&S MANZCVS (Small Animal Dentistry and Oral Surgery) DipEVDC PGCertVetEd FHEA MRCVS, RCVS Recognised Specialist and EBVS® European Specialist in Veterinary Dentistry, Honorary Lecturer in Dentistry, Royal Veterinary College
Director, Perry Referrals