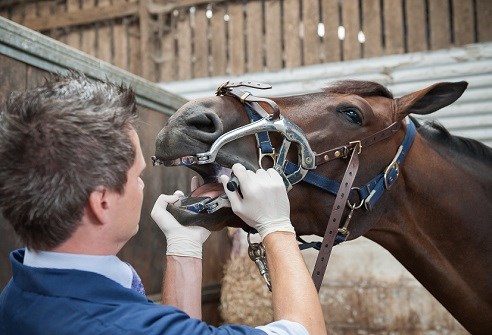 Key Information
CPD Hours: 16 hours
Course Length: One day
Course Format: Practical sessions using live horses and cadaver material, case-based discussions and eight one-hour recorded webinars to be viewed before the onsite course
Enrol Now
£550.00
Sorry this course is not currently available to book
This course may run again in the future. To register your interest please contact us.
Course Information
Key Areas
Expanding your dental kit to do a bit more
Dental biomechanics and the aetiopathogenesis of common dental disease
Beyond routine rasping - tricky cases and overgrowths
Dental nerve blocks and imaging
Managing periodontal disease/diastema in practice
Holes in teeth, which ones are significant?
What to do with a fractured tooth
Managing dental disease in geriatric patients
About this course
It is with regret that the Royal Veterinary College has made the decision to postpone this course. Being mindful of current UK Government public health advice about the risk of COVID-19 being spread through close contact, we feel that this is the correct decision at the present time.
We are planning to deliver this course in 2021, so if you are interested in booking please email cpd@rvc.ac.uk and we will contact you when a new date is confirmed
Are you looking to perform a bit more than routine rasping without wanting to become a specialist?
This course is aimed at practitioners who are happy performing routine rasping of day-to-day cases and want to develop their skills further without seeking to become a specialist. The course aims to fill the gap between a basic and advanced course. The course will be delivered as recorded webinars (to be watched in your own time before the practical day) followed by a day of practical sessions and case discussions.
Why do this course?
You will build on your current knowledge and learn about more advanced dentistry techniques that can be performed in the field.
Tutors
Tim Barnett, BSc BVM&S MSc CertAVP DipECVS DipEVDC-EQ MRCVS
RCVS and EBVS® Specialist in Equine Surgery, RCVS Specialist in Veterinary Dentistry (Equine)
Rossdales Equine Hospital and Diagnostic Centre

Andy Fiske-Jackson, BVSc MVetMed DipECVS FHEA MRCVS
Senior Lecturer in Equine Surgery
The Royal Veterinary College

Rob Pascoe, BVSc BAEDT DipAVDC MRCVS
RCVS and American Veterinary Specialist in Dentistry (Equine)
Equine Dentistry Referrals Ltd

Kieran Rowley, BVSc CertAVP(EM)(ED) PGCertVPS MRCVS
Advanced Veterinary Practitioner in Equine Medicine and Equine Dentistry,
Buckingham Equine Vets, Wicken