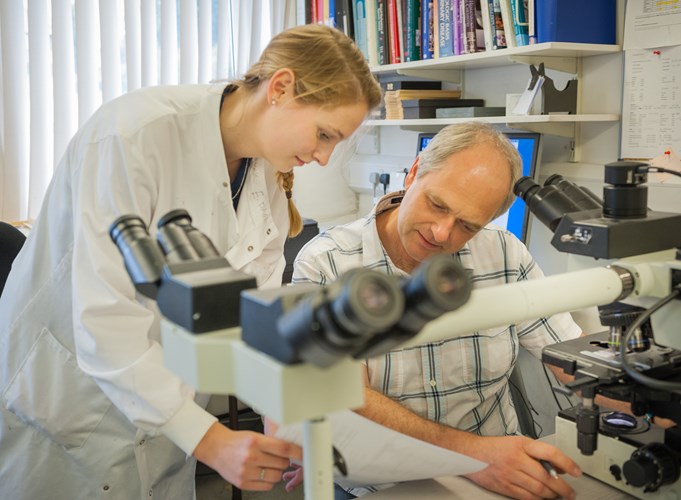 Key Information
CPD Hours: 42 hours
Course Length: Six weeks
Course Format: An intensive tutor-moderated learning experience. Course resources include an online haematology and cytology manual, a multitude of case assessment exercises and discussion forums in which participants review and discuss cases with their colleagues and the tutors
Enrol Now
This course last ran 19 Feb 2018, we may be releasing new dates soon, please contact us for further information.
Very helpful and well organised. I gained a lot of knowledge and broadened my horizons in haematology and cytology.
Course Information
Key Areas
Microscopic skills – setup and care
Top tips on making high quality blood smears, fine needle aspirates, imprints and fluid preparations
Systematic and efficient approach to the interpretation of peripheral blood smears, common skin masses, lymph nodes, organ and cavity aspirates
Understanding the strength and weakness of haematology analysers
About this course
This course started on Monday 19th February and can still be purchased up to a week after the start date!
Would you be interested in increasing your skills in examining blood smears and fine needle aspirates to expand the service you can provide to your patients? Are you in a practice where financial limitations don't allow sending out bloods and aspirates to external labs? Would you like to be able to gain more from your in-house analyser?
The ever-widening availability of in-house haematology analysers has provided many benefits for patient care. In many practices however, there is a skills gap in relation to blood smear examination in-house. Yet this is an essential skill for these machines to be used reliably and safely.

This course is for practitioners who wish to develop and enhance their skills in haematology and cytology. The course uses a case-based teaching approach. There is an active tutor-moderated discussion forum to discuss any questions regarding technique, the study cases, specific topics in haematology and cytology, and participants' cases.
Why do this course?
You will improve your skills and efficiency in preparing and assessing high quality blood smears and cytological samples.
Tutors
Balazs Szladovits, DVM DipACVP FHEA MRCVS
Associate Professor in Clinical Pathology
The Royal Veterinary College

Barbara Glanemann, DrMedVet DipECVIM PGCVetEd FHEA MRCVS
Senior Lecturer in Small Animal Medicine
The Royal Veterinary College