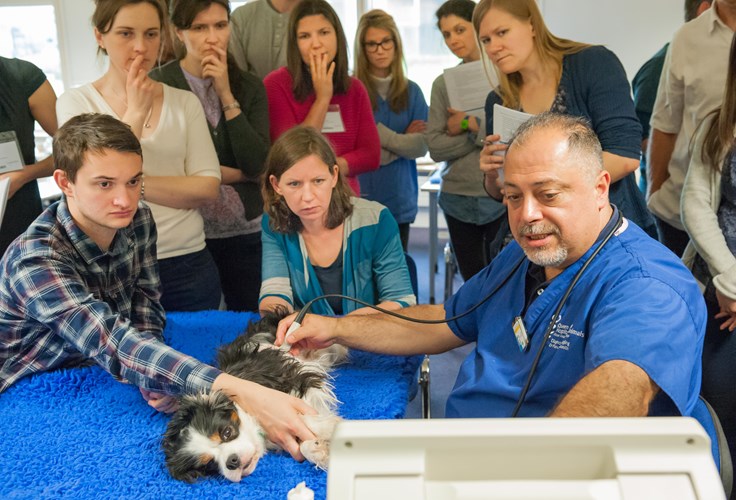 Key Information
CPD Hours: 8 hours
Course Length: One day
Course Format: Practical scanning sessions
Thank you for such a great CPD course. I really feel that I can use what I have learnt in my everyday clinical practice.
Course Information
Key Areas
Practical technique for:
- Liver
- Gallbladder
- Spleen
- Stomach
- Intestine
- Kidneys
- Adrenals (practice the left adrenal)
- Pancreas (practice the right lobe)
- Urinary bladder
- Ultrasound-guided aspiration and biopsy
About this course
You've listened to the lectures, watched the videos and tried it on your own. Now come and practice your ultrasound skills!
Many veterinarians are keen to develop their knowledge and skills in abdominal ultrasonography as it is such a useful diagnostic tool in general practice. These abdominal practical scanning days are for veterinary surgeons with limited ultrasound experience or simply veterinarians that would like to fine-tune their basic abdominal ultrasound skills. It is not aimed at practitioners with more advanced ultrasound experience.
The days will be entirely devoted to scanning – there will be no lectures or course notes and participants will be expected to have attended an introductory CPD course (from any suitable CPD provider) previously (where the basics of ultrasound theory were discussed and techniques demonstrated) or have some personal experience performing abdominal ultrasound examinations. Please call us on 01707 666865 if you are in any doubt.
Why do this course?
At the end of the course, you will have practiced the techniques needed to perform a basic abdominal ultrasound and ultrasound-guided aspiration and biopsy in dogs.
These courses sell out fast so book early to avoid disappointment.
Tutors
Pete Mantis, DVM DipECVDI FHEA MRCVS
Consultant Radiologist, Dick White Referrals
Honorary Associate Professor of Diagnostic Imaging, Nottingham University

Proudly supported by:
Relevant CPD courses you may find of interest