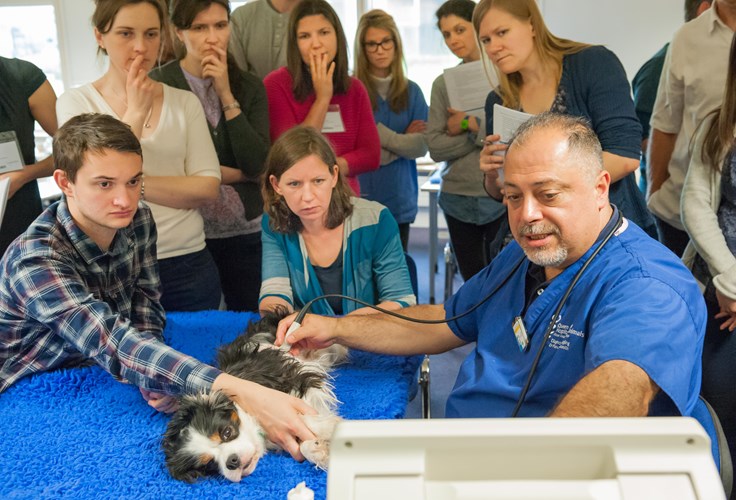 Key Information
CPD Hours: 8 hours
Course Length: One day
Course Format: Practical scanning sessions
Enrol Now
£399.00
See main text for dates and booking information
This course may run again in the future. To register your interest please contact us.
Excellent course, best value for money CPD I've done so far!
Course Information
Key Areas
Practical technique for:
- Assessing abdominal organs
- Ultrasound-guided aspiration and biopsy
About this course
We are hoping to deliver this course in 2022 however due to the ongoing pandemic and wider implications on the RVC we can not take bookings at this time. In the meantime please register your interest with us and we will contact you when the course is bookable
You have been to courses, listened to lectures, watched videos and tried on your own. Now enhance your learning and come to the RVC to practise doing a basic abdominal ultrasound examination.
Many veterinarians are keen to develop their knowledge and skills in abdominal ultrasonography as it is such a useful diagnostic tool in general practice. These abdominal practical scanning days are for veterinary surgeons with limited ultrasound experience or simply veterinarians that would like to fine-tune their basic abdominal ultrasound skills. It is not aimed at practitioners with more advanced ultrasound experience. The days will be entirely devoted to scanning – there will be no lectures or course notes and participants will be expected to have attended an introductory/beginners CPD course (from any suitable CPD provider, not just the RVC) previously where the basics of ultrasound theory were discussed and techniques demonstrated or have some practice in performing abdominal ultrasound examinations.
Why do this course?
At the end of the course, you will have practised the techniques needed to perform a basic abdominal ultrasound and ultrasoundguided aspiration and biopsy in dogs.
These courses sell out fast so book early to avoid disappointment.
Book offer: As a registered delegate on the Practical abdominal ultrasound scanning day we are offering the opportunity to purchase Pete Mantis' Practical small animal ultrasonography: Abdomen book with a 25% discount. Usually selling for 78€ RRP (£68 approx.), you can purchase the book for £55 (including postage to a UK address). To order the book, click on the add to basket button on the left.
If you want purchase the book but live outside the UK, please contact the CPD Unit on 01707 666865 or cpd@rvc.ac.uk to get P&P costs.
For more information on the book, please see Practical small animal ultrasonography: Abdomen
Tutors
Pete Mantis, DVM DipECVDI FHEA FRCVS
Head of Diagnostic Imaging, Dick White Referrals
Honorary Associate Professor of Diagnostic Imaging, Nottingham University

Proudly supported by: