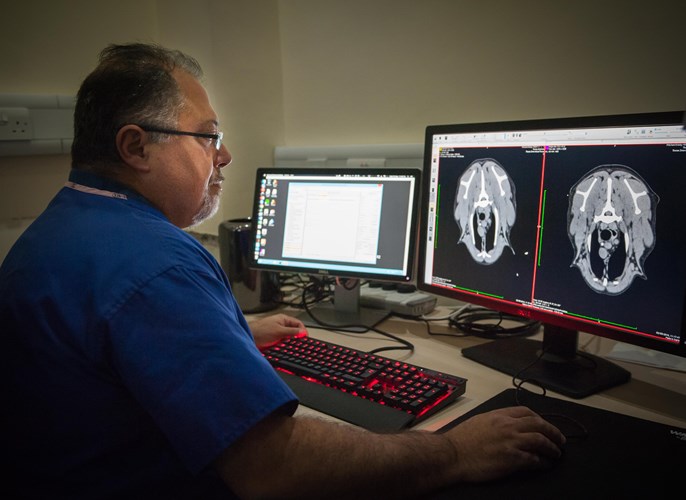 Key Information

Online course with optional practical day
CPD Hours: 26 hours
Course Length: Up to 26 for online course
Course Format: An intensive tutor-moderated online learning experience. Resources include course notes, online lectures and practical exercises, self-assessment quizzes and discussion forums
This is a course for beginners - it was a very good course to help beginners, like me, gain some confidence.
Course Information
Key Areas
Physics of diagnostic ultrasound
Ultrasonographic artefact
Machine set-up and image recording
Review of normal ultrasonographic appearance
Ultrasonography of abdominal organs
Ultrasound guided invasive procedures
About this course
Would you like to start to build your ultrasound knowledge and skills from the comfort of your own computer?
This online course is designed to provide you with the knowledge and skills required to perform a basic abdominal ultrasonographic examination. The online course is followed by an optional practical session (8 CPD hours) on Wednesday 22nd May at the RVC (limited to 20 participants).
Why do this course?
At the end of the course you will have developed techniques and a structured approach to allow you to perform a basic abdominal ultrasound in a dog or cat.
During the optional practical day participants will have the opportunity to practice examining the abdominal organs taught during the online component of the course. This takes place on Wednesday 22nd May (course fee £374) and can be booked online: http://cpd.rvc.ac.uk/courses/practical-abdominal-ultrasound-scanning-day-for-ecpd-course or by calling the CPD Unit - 01707 666865
Tutors
Pete Mantis, DVM DipECVDI FHEA MRCVS
Consultant Radiologist, Dick White Referrals
Honorary Associate Professor of Diagnostic Imaging, Nottingham University

Proudly supported by: