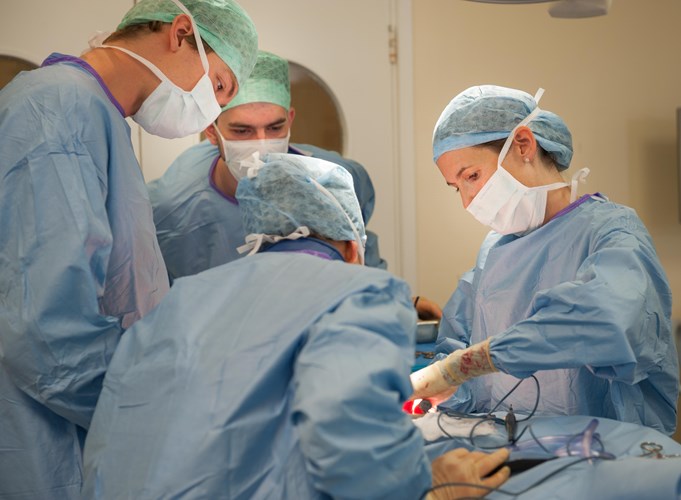 Key Information
CPD Hours: 16 hours
Course Length: Two days
Course Format: Lectures, case-based discussions and practical sessions
Enrol Now
This course may run again in the future. To register your interest please contact us.
Best CPD I've ever done, learnt so many tips.
Course Information
Key Areas
It all looks normal, what now? Maximising an exploratory laparotomy
Is it surgical? Abdominal radiographs for surgeons
The foreign body sweep stake – surgery of the intestinal tract
The dreaded Saturday night on call, alone with a GDV!
Oh no, it's a big fat bitch spay – ovariectomy, OHE and C-section
Help, all I can see is blood! Haemoabdomen, splenectomy and liver surgery
About this course
Does your heart sink when you see there is a large dog neuter on the surgery list? Do you hesitate to do an exploratory laparotomy even though in your heart you know it is the next best diagnostic step? Would you like to feel more confident dealing with your next acute abdomen?
The aim of this course is to improve the confidence of those veterinarians who sometimes (or always) feel out of their depth when performing routine abdominal surgical procedures in small animal practice.
The practical day will allow you to perform fundamental procedures required for abdominal surgery ranging from entering the abdomen safely, tying secure ligatures, isolating organs within the abdomen and developing a systematic approach to exploration of the abdominal cavity.
Why do this course?
You will learn how to perform exploratory laparotomy and a range of abdominal procedures with confidence and gain insight into the clinical decision making that can optimise patient care.
Please note: there is a change to the format of the course - all lectures will take place online and must be viewed prior to attending the practical session. The practical session will take place at the RVC Hawkshead Campus. There are two dates available to book: Wednesday 19th or Thursday 20th May*.
COVID measures will be in place onsite and you will be expected to provide a negative lateral flow test result prior to coming on campus. Masks will be expected to be worn at all times indoors and full PPE will be provided on the day. More details will be sent nearer the date once you have booked a place on the course.
*Please note places are limited to 12 per day so please book promptly to avoid disappointment.
Tutors
Zoë Halfacree, MA VetMB CertVDI CertSAS DipECVS FHEA MRCVS
Soft Tissue Surgeon
Davies Veterinary Specialists

Karla Lee, MA VetMB PhD CertSAS DipECVS PGCAP FHEA MRCVS
Associate Professor in Small Animal Surgery
The Royal Veterinary College